Top Signal 2X HiBoost Systems for Office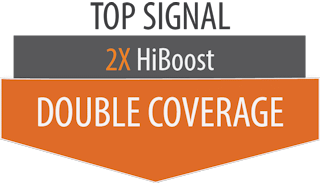 Top Signal 2X HiBoost cell signal booster systems provide maximum improved cell signal coverage in your office.
By adding larger, more robust coax cable and upgraded outdoor antennas, the 2X systems double the coverage area of the standard Top Signal HiBoost systems.
If you have any questions about the performance, installation, or use of our Top Signal 2X HiBoost kits, please don't hesitate to contact us—we'll be happy to answer your questions!