weBoost 470510 Drive 4G-X MAX Cell Phone Signal Booster for Vehicles
Product features
weBoost's most powerful 4G commercial-grade cell phone signal booster for vehicles.
Boosts 4G LTE and 3G service for voice, text, and data.
Works with all major U.S. and Canadian carriers.
Boosts cell signal for multiple users simultaneously.
The weBoost Drive 4G-X cell phone signal booster has been designed to provide maximum power for the best possible cellular reception on the road. Stay connected longer with the strongest cell signal, and experience fewer dropped calls, undelivered texts, and missed email messages. Keep your data moving faster in areas with weak cell service, obstructions, and long distances from cell phone towers.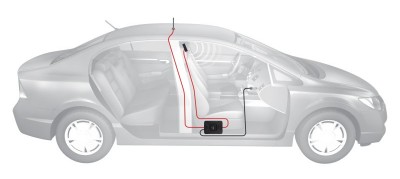 Typical setup of the weBoost Drive 4G-X MAX
Who is this for?
When having a usable cell phone signal in your car isn't a luxury, it's a critical necessity.
"Road warriors" and individuals who work in their cars (salespeople, real estate agents, etc.)
Emergency responders (police, sheriff, fire, EMT, etc.).
Field service technicians (oil, gas, agriculture, etc.).
Taxi, limo, and shuttle service drivers.
Government agencies (Forest Service, FBI, executive and legislative staff, military, etc.).
Anyone who needs the best, most reliable cell phone connectivity on the road.
Product includes
This is a complete kit, with everything you need to start getting the best signal on the road.
1 × Wilson weBoost 470510 Drive 4G-X cell phone signal booster.
1 × Wilson 301126 4G 4" magnet mount outside antenna.
1 × Wilson 301152 4G 5" × 1.5" adhesive/Velcro mount inside antenna.
1 × Wilson 859913 DC vehicle power supply (connects to your car's cigarette lighter/power port).
1 × Booster mounting bracket with hardware (for optional mounting in your vehicle).
User manual
Quick install guide.
More information about the weBoost 470510 Drive 4G-X MAX
How it works
Using Wilson Electronics' patented SmarTech III® technology, the Drive 4G-X receives the outside cell signal, amplifies it, and rebroadcasts it inside your vehicle. This allows you to travel farther away from cell towers while staying connected.
Works with all major cellular carriers
The weBoost Drive 4G-X works with all major wireless carriers in the U.S. and Canada.
U.S. carriers, including Verizon, AT&T, T-Mobile, Sprint, U.S. Cellular, and most others.
Canadian carriers, including Rogers, Bell Canada, Telus, Wind, and most others.
Easy to install
Installing the weBoost Drive 4G-X is simple and fast. It does not require professional help; you can do it yourself in a few minutes. (Click Documentation, above, to download the installation guide.)
Notice
This is a CONSUMER device. BEFORE USE, you MUST REGISTER THIS DEVICE with your wireless provider and have your provider's consent. Most wireless providers consent to the use of signal boosters. Some providers may not consent to the use of this device on their network. If you are unsure, contact your provider. You MUST operate this device with approved antennas and cables as specified by the manufacturer. Antennas MUST be installed at least 20 cm (8 inches) from any person. You MUST cease operating this device immediately if requested by the FCC or a licensed wireless service provider. WARNING. E911 location information may not be provided or may be inaccurate for calls served by using this device.
Please note: The four largest carriers (Verizon, AT&T, T-Mobile, and Sprint) and more than 90 regional carriers have given blanket consent for use of all boosters that are certified to the 2013 FCC standards. Go to our Cell Phone Signal Booster Registration page and follow the links for your carrier. There are no fees to register your cell signal booster.
If you have any questions, please contact Powerful Signal.