Office Cell Phone Signal Booster Solutions by Number of Antennas
Modular systems to improve cell signal in any size business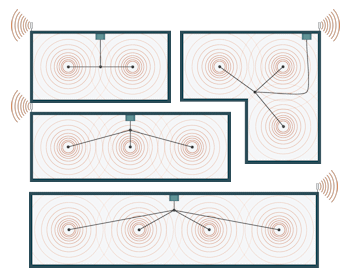 Multi‑antenna cell phone signal booster systems can be installed in many configurations to fit the layout of your building.
Powerful Signal's business systems are configured with one to four antennas, providing improved cell in a single zone or multiple zones in your office or other large building. The number of antennas you'll need depends on how your office is configured and how much area you need to cover.
Before you buy a cell phone signal booster system, please call us—our professional support team can help you select the right solution and number of antennas for your office. We can also provide you with a free quote on a custom solution for your building.