WilsonPro 465134 Pro 70 Cell Phone Signal Booster System with 2 Dome Antennas
Product features
Wilson Pro's most cost effective 2-antenna 4G cell phone signal booster system for small offices.
Low to moderate use load on cell phones and data
Carrier agnostic: Works with all major U.S. and Canadian carriers.
Boosts 4G LTE and 3G service for voice, text, and data.
Boosts cell signal in small offices for multiple users.
Includes commercial-grade antennas and coax cables.
This Wilson Pro 70 system is a two-antenna option designed for small rectangular shaped offices or in-building areas that need improved cell signal reception. This system improves both voice and data to reduce dropped calls and missed emails and texts. Keep your business and employees connected with a stronger cell signal.
This kit includes two (2) inside dome antennas that send amplified signal to the cell phones in your office.
Sample Wilson Pro 70 2-antenna setup
Who is this for?
Those who have moderate cellular user and data loads.
Those who frequently experience dropped calls, undelivered text, or slow 4G data.
Small offices in remote locations with weak cell service.
Small offices in urban locations with building materials that block outside cell signal (steel, glass, concrete, plaster, etc.).
Small offices below ground level, and other places where cell reception is poor.
Double your coverage

with our performance upgrade kit!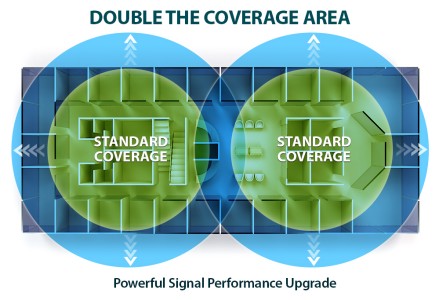 The low-loss ½-inch cable option doubles the square footage of your cell signal amplifier system.
The Wilson Pro 70 kit comes standard with ⅜-inch 400 coax cable. Powerful Signal offers you choice to upgrade to ½-inch carrier-grade coax cable, which will increase the broadcast radius of your inside antennas and double the square footage your Pro 70 system will cover.
Click the Performance Level option above the Add To Cart button and take advantage of increased coverage in your office!
Product includes
Properly installing and configuring a WilsonPro Pro 70 is complex task, and we strongly advise a custom solution (see More Information, above). If you prefer to purchase a Pro 70 as a standalone product, without design and installation, the kit comes with the following components:
1 × WilsonPro Pro 70 cell signal amplifier.
1 × AC wall outlet power supply.
1 × wideband outdoor omnidirectional antenna.
2 × wideband indoor dome antennas.
1 × 2-way splitter.
1 × 75' 400 coax cable (connects outside antenna to amplifier).
1 × 30' 400 coax cable (connects amplifier to splitter).
2 × 50' 400 coax cables (connect splitter to inside antennas).
1 × adjustable rooftop antenna mount (for outdoor antenna)
1 × 50-ohm lightning surge protector.
WilsonPro Pro 70 install guide.
More information about the WilsonPro 465134 Pro 70
How it works
Using Wilson Electronics' patented SmarTech III® technology, the Wilson Pro 70 receives the outside cell signal, amplifies it, and rebroadcasts it inside your office. This allows you to stay connected in areas where cell service is poor, or where your office's building materials interfere with signals from the local cell tower.
Works with all major cellular carriers
The Wilson Pro 70 works with all major wireless carriers in the U.S. and Canada.
U.S. carriers, including Verizon, AT&T, T-Mobile, Sprint, U.S. Cellular, and most others.
Canadian carriers, including Rogers, Bell Canada, Telus, Wind, and most others.
How much area will this product cover?
This system comes with two dome antennas that will broadcast improved cellular signal in a circular pattern. The radius of that circle depends on many factors, including:
Outside cell signal strength picked up by the rooftop antenna.
Inside building materials.
Cellular frequencies used by the carrier.
In general, the stronger the outside cell signal, the greater the interior broadcast distance.
Powerful Signal has over a decade of experience designing and installing cellular amplification systems. Please call us at 877‐912‐3444 or contact us online, and we'll be happy to calculate the coverage area this system will provide in your building and answer any other questions about this amplifier.
Some online retailers claim that a one-antenna WilsonPro commercial system will provide 50,000 square feet of coverage. That figure is unrealistic under typical conditions, and Powerful Signal warns consumers against purchasing WilsonPro systems from retailers who make such exaggerated claims.
Best practices: a custom-designed WilsonPro solution
Plenum air coax cable upgrade (optional)
Notice
This is a CONSUMER device. BEFORE USE, you MUST REGISTER THIS DEVICE with your wireless provider and have your provider's consent. Most wireless providers consent to the use of signal boosters. Some providers may not consent to the use of this device on their network. If you are unsure, contact your provider. You MUST operate this device with approved antennas and cables as specified by the manufacturer. Antennas MUST be installed at least 20 cm (8 inches) from any person. You MUST cease operating this device immediately if requested by the FCC or a licensed wireless service provider. WARNING. E911 location information may not be provided or may be inaccurate for calls served by using this device.
Please note: The four largest carriers (Verizon, AT&T, T-Mobile, and Sprint) and more than 90 regional carriers have given blanket consent for use of all boosters that are certified to the 2013 FCC standards. Go to our Cell Phone Signal Booster Registration page and follow the links for your carrier. There are no fees to register your cell signal booster.
If you have any questions, please contact Powerful Signal.