Product Description
Features of the Top Signal Onyx NMO‑mount antenna
700/800/AWS (1700/2100)/1900 MHz (4G/3G) omindirectional antenna.
3.62 inches (92 mm) tall × 1.57 inches (40 mm) wide at the base.
Non-magnetic option (NMO) for permanent, secure installation on your vehicle's roof (¾-inch mount sold separately).
Spring‑loaded pin connector to NMO mount.
Works best with 4G cell phone signal boosters.
90‑day warranty.
How the Top Signal Onyx NMO‑mount antenna works
Receives outside signal from a cell phone tower and directs it to a cell phone signal booster.
For use with all personal, commercial, and fleet vehicles, especially those with aluminum, fiberglass, or other non-metallic roofs.
Requires drilling a ¾-inch hole in the roof of the vehicle and pulling/concealing cable through the vehicle's interior.
Works with the NMO mount and cable (sold separately).
For use with newer in-vehicle cell signal boosters with SMA‑female connectors, including the weBoost Drive 4G‑X, weBoost Drive 4G‑M, and HiBoost Travel 4G LTE.
Top Signal Onyx NMO‑mount antenna contents
Please note
This antenna will not operate by itself; it is one component of a cell signal booster system. Please contact Powerful Signal—we'll be happy to help you determine what your needs are and what system will work best in your situation.
Documentation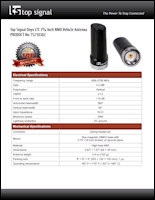 Top Signal TS210382 spec sheet (PDF)