Should I buy a refurbished WilsonPro 70 Plus cell phone signal booster?
Posted by Kevin Taylor on Mar 28th 2019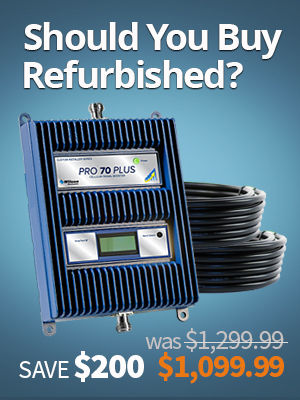 Quick take
The refurbished WilsonPro 70 Plus system is a terrific choice for anyone who needs stronger cellular signal in their office or large home. The $200 savings off of the regular retail price makes this a very attractive option.
An exceptional cellular booster solution:
WilsonPro 70 Plus refurbished kit
$1,099.99 at PowerfulSignal.com
(while supplies last)
Ready for the future
To be honest, eleven hundred dollars is a lot to spend on a cell signal booster. But the saying "you get what you pay for" most definitely applies in the cellular amplification market. There are less expensive booster systems out there that may seem attractive, but the WilsonPro 70 Plus is the leader in the small business market, especially when available outside signal is weak or if you need to provide signal to dozens of cellular devices inside your building.
You could purchase an underpowered booster system designed for small homes or home offices, but our experience at Powerful Signal has been that those units tend to be returned the quickest as business owners and managers quickly discover their need improved signal over larger areas and for more users.
A refurbished Pro 70 Plus system gives you the opportunity to purchase the bestselling and most powerful small office booster at a price not much higher than the less-capable WilsonPro 70 and consumer weBoost Connect 4G‑X systems.
Know what you're getting
The WilsonPro 70 Plus is a commercial-grade cellular amplifier that covers up to 40,000 square feet with strong outside signal. In addition to support for all major U.S. carrier networks, it has Wilson's industry-leading three-year warranty.
The WilsonPro 70 Plus refurbished kit comes standard with one ceiling-mounted dome antenna, and the option to upgrade to two or three antennas:
Have more questions?
See our Knowledge Base article on refurbished cell signal boosters, or call Powerful Signal at 435-634-6800. We'll help you find the right cellular amplifier solution for your home, business, or vehicle!