LTE Frequency Bands for Cell Signal Boosters
The objective of this article is to explain in simple terms what frequencies are being used by by the cell signal boosters currently available on the market.
Frequency Band Explanation
The cellular world is broken up into many different frequency bands. Governments usually control the bands and how they are used. The US allocates frequency bands for cellular use. Each cellular band is made up of multiple channels (blocks). Cellular carriers license the channels for their use. Each cellular channel is divided into uplink (transmit from cell phone) and downlink (transmit from cell tower). Having separate uplink and downlink within the channel allows for easier two-way conversation.
Cellular Band 5 and PCS Band 2 History
In the early days of cell phones (more information on 800 MHz Cellular), band 5 800MHz was used for simple voice transmission. There are only two channels on 800MHz band, A and B. As cell phone usage grew, more band-width was needed to support the user load. Band 2 1900MHz was licensed to the carriers. 1900MHz has six channels, A through F. These two bands, 2 (Cellular 800MHz) & 5 (PCS 1900MHz), were the primary cellular frequency bands for few years.
Band 5 800 MHz

Chan A

Chan B

UL

DL

UL

DL
UL-Uplink, DL-Downlink
Band 2 1900 MHz

A

B

C

D

E

F

U

D

U

D

U

D

U

D

U

D

U

D
U-Uplink, D-Downlink
Something Very Big Happened
Then something very big happened, the smartphone was created. Email, texting, video, data, applications and much more started to play a major role in our mobile lives. Not only was the excessive user load becoming a cell tower problem, but data was choking the carrier's cellular frequencies. The cellphone was no longer a casual voice device, but rather a necessary personal and business tool moving personal and business information. Not only are there smartphones, but now 4G tablets, 4G laptops, 4G watches, etc. are part of the mix. Cellular connectivity was at the core of new technology and the entire world was changing.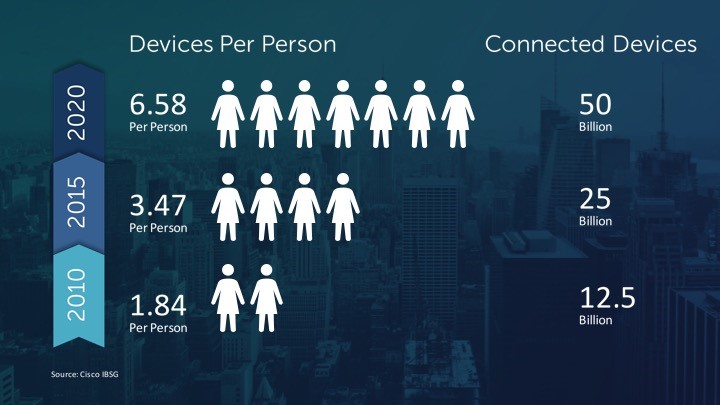 LTE and AWS Frequency Bands
LTE (Long Term Evolution) and AWS (Advanced Wireless Services) came to the rescue to help deal with the massive amounts of date that was moving through the cellular networks. These 4G technologies promised speed improvements of over 10x. This was a huge leap from 3G. Now everyone was getting use to 4G speeds and applications on their portable hand-held devices with gigabytes of storage and memory.
5G, IoT, Automatous Vehicles and Who Knows What
We are never happy with what we have, we all want more. 5G is just around the corner. The demand for instantaneous information to guide and control autonomous vehicles along with all the other demands we are placing on the Internet of Things requires faster and faster data to be delivered to almost any location. This is a fun ride and it will be extremely interesting to see where it takes us.
LTE and other Frequencies for Consumer Cell Signal Boosters (2018)
I imagine as fast as cellular technology is changing, that this chart may be out of date in the near future.
Band

UL (MHz)

DL (MHz)

Width (MHz)

Common Name

2

1850 -
1910

1930 -
1990

60

PCS
(Blocks A-F)

4

1710 -
1755

2110 -
2155

45

AWS

5

824-
849

869 -
894

25

800
(Blocks A-B)

12

698 -
716

728 -
746

18

700

13

777 -
787

746 -
756

10

700

25

1850 -
1915

1930 -
1995

65

Extended PCS
(Blocks A-G)