Cell Signal Boosters for RVs and Commercial Trucks
Stay connected on America's remote and scenic highways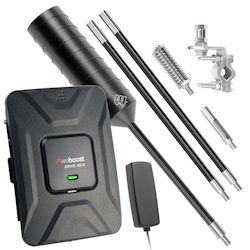 The weBoost Drive 4G-X OTR kit for commercial trucks. (Click to learn more.)
Whether you're taking your RV to the lake or mountains, or hauling freight across the county's remotest roads, a cell signal booster will keep you connected stronger and farther from a cell tower.
These boosters, with antenna options specifically tailored for long-haul trucks and RVs, are the most powerful and versatile options for improving cell signal in large vehicles.
Stay connected farther away from cell towers.
Power navigation and other mobile apps.
Reduce or eliminate dropped calls and missed texts.
If you need assistance finding the right vehicle booster for your needs, please contact us and we'll be happy to help you.